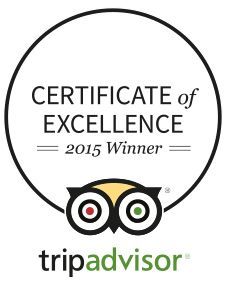 Did you know 93% of travelers worldwide say their decisions are impacted by online reviews?
As part of SPM's vacation rental program, we actively monitor, respond, and update the Tripadvisor listings of the resorts we manage. Our resort managers respond to all Tripadvisor reviews – both good and bad – and our corporate marketing team assists the resort staff to help keep the listings updated with current photography and help write responses.
This activity has produced great results for the resorts we manage, including being awarded the Certificate of Excellence for several of our resorts.
Blue Tree Resort in Orlando, Ocean Club on Smuggler's Beach in Cape Cod, Tropic Sun Towers in Ormond Beach, Royal Dunes Resort in Hilton Head, Foxhunt at Sapphire Valley, and the Island Club in Hilton Head, were all awarded TripAdvisor's prestigious Certificate of Excellence, which is awarded to those resorts that consistently achieve outstanding traveller reviews on TripAdvisor and represent the upper echelon of businesses listed on the website.
"We have received the TripAdvisor Certificate of Excellence every year since our resort was updated, and I definitely think that has had a positive impact on our vacation rental program," said Toni Peterson, the GM of Tropic Sun Towers in Ormond Beach, Florida. She continued, "Travelers want to see photos and comments from others before visiting a resort for the first time. Having positive reviews and the ability to respond to all reviews has been very beneficial for our resort."
Ocean Club on Smuggler's Beach has also received the TripAdvisor Certificate of Excellence every year since the resort's renovation. Linda MacDonald, GM of Ocean Club on Smuggler's Beach added, "Positive reviews always help as so many people rely on past guests opinions. Sometimes even a "not so good" review won't hurt us too much as Trip Advisor allows us to reply to any review. I believe future guests like to see an explanation or resolution to any problem or complaint. Then the "not so good" review isn't really that bad after all. "
How TripAdvisor selects the winners
When selecting Certificate of Excellence winners, TripAdvisor uses a proprietary algorithm to determine the honorees that takes into account reviews ratings. Businesses must maintain an overall TripAdvisor bubble rating of at least four out of five, volume and recency of reviews. Additional criteria include a business' tenure and popularity ranking on the site. "TripAdvisor is pleased to honor exceptional hospitality businesses for consistent excellence," said Marc Charron, President of TripAdvisor for Business. "The Certificate of Excellence award gives top performing establishments around the world the recognition they deserve, based on feedback from those who matter most – their customers. From Australia to Zimbabwe, we want to applaud exceptional hospitality businesses for offering TripAdvisor travellers a great customer experience."
Will Potter, General Manager of Royal Dunes Resort in Hilton Head, attributes several things to their success on Tripadvisor including the cleanliness of the units, recent upgrades, and the resort's amenities. He noted, "I think the most important factor is obvious: the guests have a great experience when visiting our resort, and we pay attention to the details while they are here by responding to any issues quickly and with courtesy."
Tom Saver, Revenue Manager, stated, "The effect online reviews can have on a vacation rental program is undeniable, and our vacation rental marketing team continues to find ways to promote the resorts we manage on Tripadvisor and on other review sites."